Clatter Valley
(Sold)
Click on the painting to see a slideshow.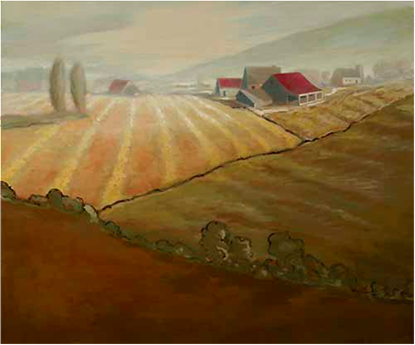 The surface of the watercolor paper in this country painting creates a beautiful texture that enhances the depth of this painting. Looking into it, you feel like you can go back miles. The strong gold and amber colors in the foreground and the soft, hazy blues in the background create the feeling of distance. The tinting is clean and creates a soft, almost watercolor look for this folk art painting. The soft background was created through the use of tinting to haze the images in the distance and give a quiet feel to this rural landscape.
Call for pricing on prints 203-470-9231.
Original: 36" X 30" Price: SOLD